Fashion Clothing Boutique
Raving Beauty's Fashion Clothing Boutique offers the names and styles for people who care about the way they look!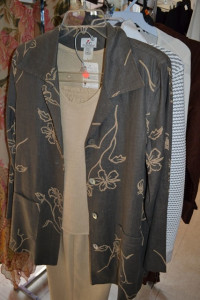 We carry exclusive fashion styles that you won't find in department stores. Our boutique caters to both men and for women!
There is always something new and trendy to find here at Raving Beauty's Clothing Boutique.
When you enter our clothing boutique, you will be impressed with the large selection of upscale fashions that we carry for both men and women! You'll also learn that we know fashion, because you will also discover our large selection of jewelry, accessories, handbags,  casual wear to night on the town fashions!
With Fashion names such as: Chancelle, Lillian Taylor, Samuel Dawn, Lily & Taylor, Aliza's Eleque, Nubian, Lisa Fene, Donna Vinci, 7th Carrot, Stacey Adams, Ultra Club, Blue Martini, Daniel Elissa, LCR Menswear, Avant Garde, Tayion, Just to name a few! And if you're looking for that unique style our personal shopper can assist you with completing your wardrobe.
Raving Beauty Boutique knows style and fashion – and we also provide a professional shopper service for when you're short on time!  You let us know what you're looking for and we do the work to find it for you, a perfect service for the busy professional.
Our salon carries professional hair care products, supplies and accessories – and our hair salon is perfect for completing that new look!  Stop by today to learn more about Raving Beauty Boutique.

We Have New Fashion Clothing Arrivals In!!!  Check out some of our Clothing Arrivals: